The Krutträsk Village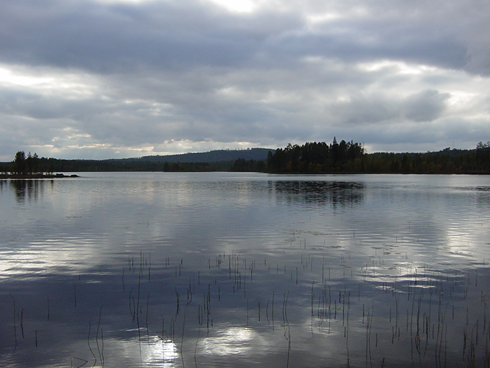 Foto: The lake Krutträsket. By: Barbro Fransson
​
The first settlers in the Grundträsk (now Krutträsk) village, Margareta Sophia Mårtensdotter (1804-1883) and her future husband Niccolaus (Nils) Johansson Sorsén (1799-1882) came in 1828. According to family history, the newlyweds lived under a tree the first summer while they cleared land and timbered a house on what was to become their homestead in Krutträsk. Margareta Sophia better known as "Mor Greta" and Nils were farmers but they have also influenced Swedish church history when they took part in the movement against the Swedish state church.
​
Read more about Mor Greta and Sorsleläseriet.
​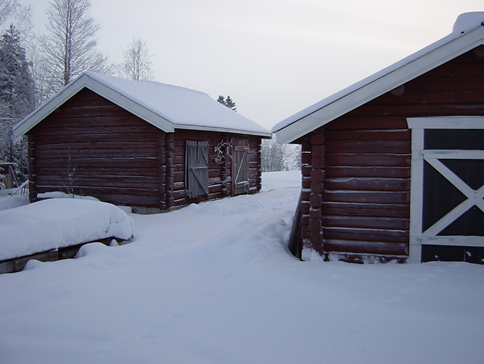 Photo: B. Fransson
​
The Abmoberg village
In the beginning of 1800-talet a Sami family moved into the Abmoträsket area. They were Thomas Nilsson Abmo (1784-1852) and Stina Jonsdotter (1788-1885) and called their homestead Abmoberg from their Lappskatteland Abmo.
The first family in the Abmoberget, Tomas Nilsson Abmo and Stina Jonsdotter had two sons Tomas Tomasson (1831-1917) and Jonas Tomasson (1836-1912) and three daughters Maria Christina Stina Tomasdotter (1821-1910), Anna Greta Tomasdotter (1824-1850) and Brita Kajsa Tomasdotter (1827-1917). Non of their daughters got married.
Thomas and Stinas sons inherited their homestead. Tomas Thomasson stayed at the Abmoberg, married Maria Kristina Kristoffersdotter (1840-1920), and had five children: Sara Stina (1867-1933), Jonas Israel (1869-1951), Maria Johanna (1872-1964), Johannes Kristoffer (1875-1941), and Karl (1879-1947). Maria "Smarga" Tomasson lived until she was more than 90 years old. Non of the children did get married but Sara Stina had a daughter, Nanny (1896-1993), who in turn had a son David (1924-1986).
​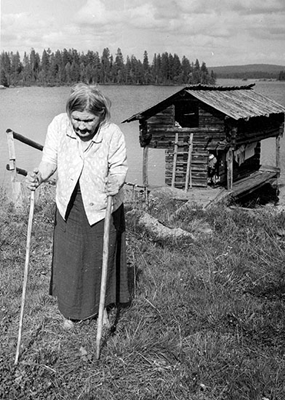 Photo: Maria "Smarga" Tomasson at the house where the large fishing net was keept. 1963.
​
At Tomassons homestead in the Abmoberg the family built a house for their big fishing net, a fishnet-house (nothus). The nothus is Grade listed today. The Tomassons in Abmoberg also set up a summerhouse (fäbod) with summer barn close to the Abmoträsket lake where part of the family lived during the summer.
​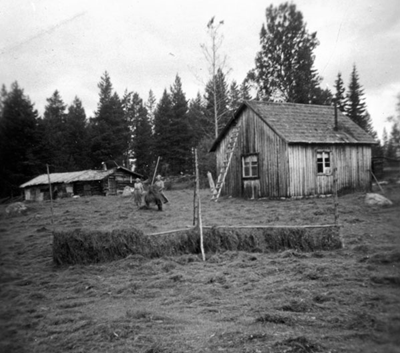 Photo: The Abmoberg summer house and summer barn.
​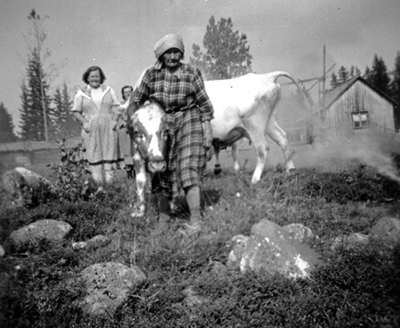 Photo: Maria "Smarga" Tomassons whith a mounain cow and some relatives.
​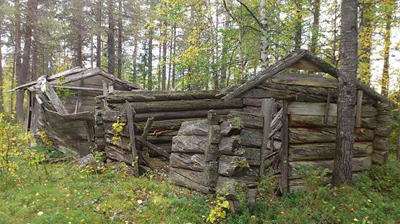 Photo: What remains of Tomassons summer barn today.
​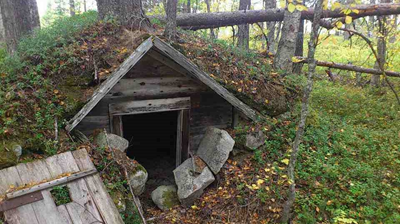 Photo: The remains of the food-cellar at Abmoberg summer house.
​
The Antasstugan village
Tomas Nilssons other son, Jonas Thomasson, married Anna Andersdotter, moved closed to the main road and took up a homestead there which was to be called Antas named after their first son Anders.